Business Proposal has taken Netflix by storm– the story of how a mistaken blind date turned into true love.
One of the most featured places in the show was Goobne– Shin Hari's family fried chicken store. Apparently, they have an outlet in Singapore that caught the attention of many netizens lately.
The question is: Is it really as good as what we've seen in the k-drama? Read on to find out! 
Located in Great World City, Goobne not only has delicious fried chicken but also a variety of mains and cool drinks too.
Mains
We tried out the UFO Fondue Chicken ($39) which allowed us to choose 2 flavours. We chose the soy garlic and cheese flavour. The soy garlic wings are perfectly seasoned and have a hint of sweetness too. If you are a cheese lover, you have to try out the cheese wings!
If you enjoy spicy food, you'll love the volcano cheese rice cake ($15). It comes with noodles that have the perfect kick of spice. The savouriness of the cheese compliments the dish well too.
The kimchi pancake ($13) was crispy and had quite a generous proportion of toppings. However, it tasted a little bland and we could not taste much flavours of the Kimchi.
Lastly, we tried the Chicken Japchae ($13), which is the Korean glass noodles. This is a light dish that is well seasoned. The sweetness of the onion adds flavour to the dish overall.
Drinks
Goobne has a range of alcoholic and non-alcoholic beverages. One of the drinks that stood out to us is the Shark blood mocktail ($12).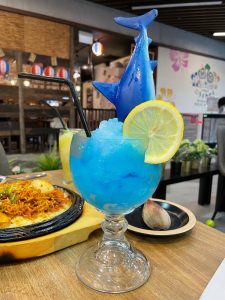 The drink is a blue coral base. The "shark blood" is actually strawberry jam, which enhances the sweetness of the drink. For those with a sweet tooth, you'll like this.
If you prefer something less adventurous, you can try the Yuja Passionfruit ($8.50) and green tea ($10). Both of them are refreshing and not so sweet.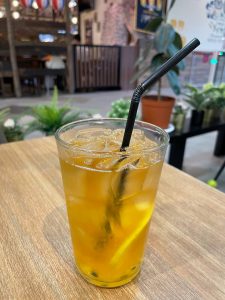 You can also try out their Korean coffee ($4.90) if you are a coffee lover!
The verdict
Overall, Goobne is a must-visit spot– especially for their fried chicken! There are other flavours you can try out too. The food might be slightly expensive but still worth the try ultimately!
Address: 1 Kim Seng Promenade, #01-115 Great World City, Singapore 237994