1. Haagen Daaz: Double Scoop Ice-cream
Haagen Daaz is offering a buy one get one free offer on its double scoop ice-cream (UP: S$10.90) until 20 December 2019.
This promotion is only valid for takeaways and additional charges apply for additional toppings.
2. Starbucks: Venti Sized Holiday Drink
It was only recent that Starbuck had its one for one promotion.
This festive season, they are back for another round of buy one get one free offer. However, only its Venti sized Christmas beverages are on promotion.
This includes their new Christmas French Vanilla Latte, Peppermint Mocha & Toffee Nut Crunch.
This promotion is ongoing from now till the 20th of December, at all Starbucks outlets except for Changi Airport and Jewel outlets.
This promotion is only redeemable with the Starbucks Card!
3. KFC: Zinger Stacker Burger
From now till this Friday (20 December 2019), KFC Singapore is having a one for one promotion for its Zinger Stacker.
This promotion is limited to 1 redemption per transaction and is available at all outlets except Changi Airport, Jewel, Kidzania and the Singapore Zoo.)
Payment has also be made through DBS Paylah! or any DBS/ POSB Cards.
4. Orchard Gateway LiHO: 大红袍 & Brown Sugar
To celebrate the countdown to Christmas, the outlet at Orchard Gateway is having 1-For-1 Da Hong Pao Milk Tea with Brown Sugar Pearl for only $4.90!
This 1-For-1 promotion will end on Christmas eve (24th Dec 2019).
All you have to do is to show the server this image below to enjoy the offer: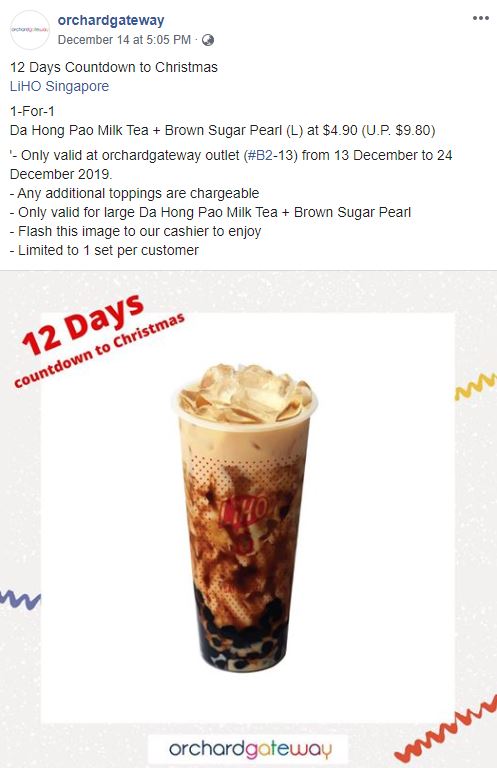 5. McDonalds: McSpicy Burger & Various
McDonalds Singapore is having a slew of one-for-one promotion for the month of December.
Here's the list of them and the promotional period: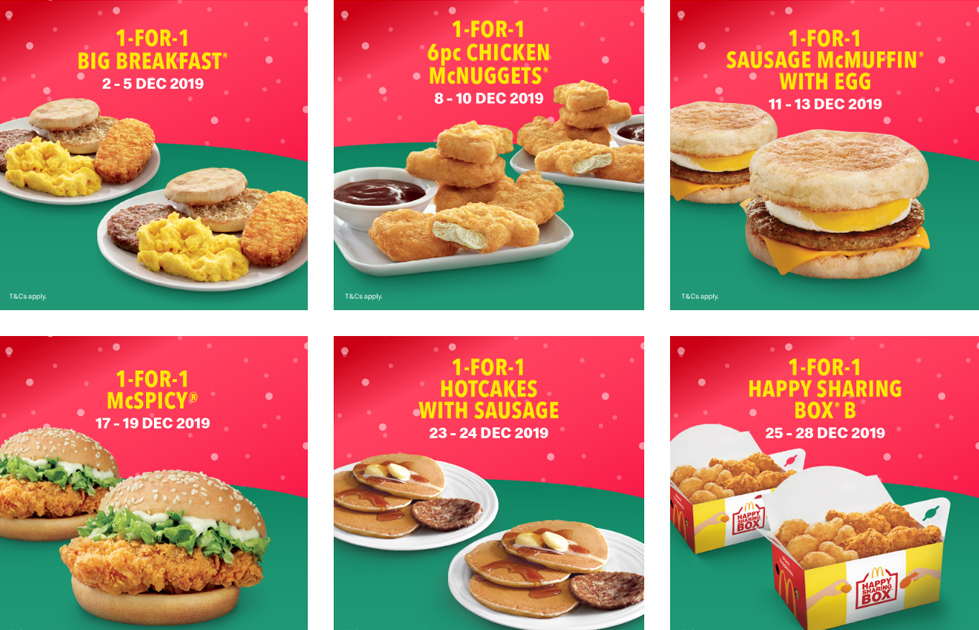 This means, from now till 22 December 2019, its McSpicy Burger will be retailing at one-for-one.
Redemption to this promotion requires the Mcdonald's Mobile App. You can download the app here for Andriod or here for Apple phones.
6. Yishun's One-Sushi: Selected Dishes
From now till Friday (22nd Dec 2019), shoppers can enjoy one-for-one promotion at selected dishes at the Yishun Town Square outlet of One Sushi.
These are the items on promotion:
Salmon Hana Maki (UP: S$5.60)
Mentai Fries (UP: S$3.80)
Tako Yaki Balls (UP: S$3.60)
Ika Geso ($3.60).
This 1-For-1 deal is not applicable with any other promotions and is only available while stocks last.
Do take note that this 1-For-1 promotion is only available at One Sushi's Yishun Town Square outlet.
7. Causeway Point Manhatten Fish Market: Breakfast Set
From now till 5 January 2020, The Manhattan Fish Market outlet at Causeway Point is having a 1-For-1 Breakfast set on Saturdays, Sundays, and public holidays from 9am to 11am.
The breakfast sets includes the Big Breakfast Set, Mushroom with Pea Puree Toast Set, Avocado Salmon & Eggs Benedict Set, Pandan Chocolate & Banana Pancake Set, and Chicken Porridge.
8. Burger King: Double Turkey Bacon
Burger King is currently offering its Double Turkey Bacon Burger on a buy one get one free promotion.
This promotion, which is available at all Burger King outlets in Singapore, ends on Christmas eve (24 Dec 2019).
Do note this promotion is only available during breakfast hours and you need a Burger King app to redeem this deal.
You can download the app here for Android phones and here for Apple phones.