Geylang Serai Ramadan Bazaar returns after a 2-year hiatus due to COVID-19. The event has been a highlight of Hari Raya and one of the biggest bazaars in Singapore.
Here's everything you can expect at the bazaar this year:
The first impression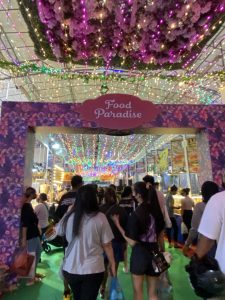 The event is definitely smaller scale this year with about 8 food stalls. The queue to enter the event was about 20 minutes, even on a weekday afternoon. You may expect larger crowds and long queues at night and during the weekends– plan your visit wisely.
They also have clothing stalls. However, we did not see any stalls doing henna, unlike the pre-covid bazaars. Hopefully the henna artists will be back next year because we were looking forward to it.
Top 5 food stalls
Praffles by Fooditude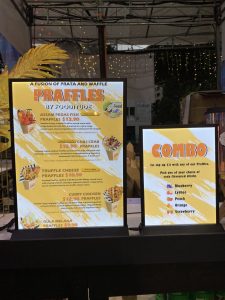 We saw the Foodking Good logo and knew we had to try it out! Praffles is a unique combination of prata and waffles and there are a few flavours to choose from.
We chose the Truffle Cheese Praffles!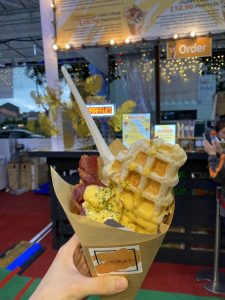 The truffle taste was not too strong and the prata was delicious too. It looks visually aesthetic in the paper cone and overall it is worth the try!
The Original Vadai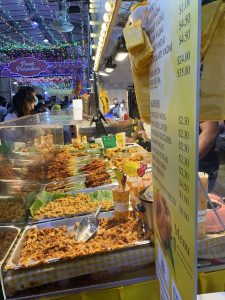 There was a snaking long queue for The Original Vadai. Vadai is a category of savoury fried snacks from India. There is a huge variety you can choose from!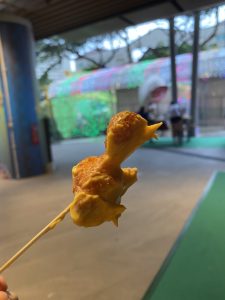 We settled down with the cheese vadai ($4.50). It was a good and simple snack and of course something worth trying at the bazaar.
Alley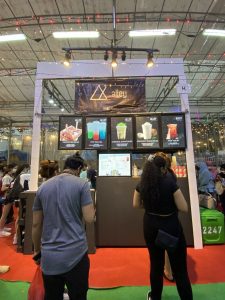 We definitely need something to quench our thirst! We headed over to Alley for our drinks and dessert. Of course, we had to get the Thai Tea ($4) and Coconut Shake ($6.80).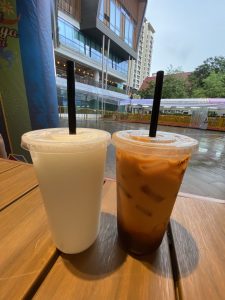 The Thai Tea was delicious and not too sweet. Those with a sweet tooth will enjoy the coconut shake. It was a little too sweet for us.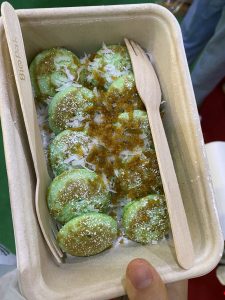 We got the Ondeh Ondeh Poffertjes ($6.50). There was a generous serving of gula melaka shavings. Over the past few years, this is something iconic at the bazaar and is known as baby dutch pancakes!
Ramly Burger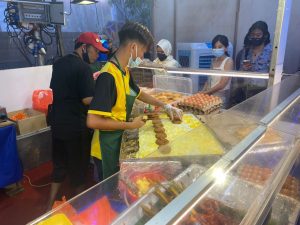 What's the ramadan bazaar without Ramly Burger? This was probably one of the longest queues we had to endure. But it was all worth it!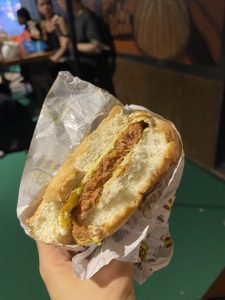 We got the beef burger ($4.50). The burger comes with a beef patty, a side of fried egg and spicy sauce. Ramly Burger never fails to disappoint their customers!
Rancho Meats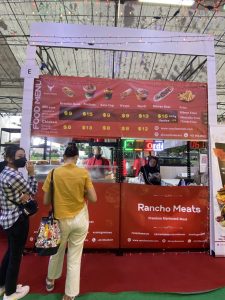 Our last stop would be Rancho Meats where they serve premium marinated meat. They offer a range of buns, wraps or even Keto Cups. However, we wanted to try out their Ribeye fries ($15).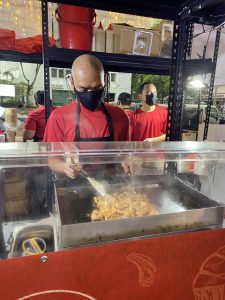 Here's a glimpse of how they prepare our food!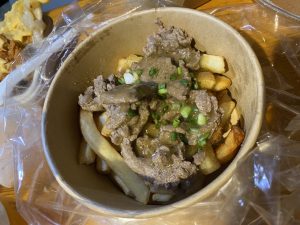 We chose the brown sauce to go with the fries. Some parts of the meat was a bit tough. But in general, the sauce really goes well with the Ribeye fries.
The Verdict 
Although this year's bazaar is smaller scale, we are still thankful that it is back. Overall, these are some of the food stalls that caught our attention and you should definitely try it out!
Geylang Serai Ramadan Bazaar
Address: Geylang Serai
Opening hours: Daily 1pm to 11pm