Calling out all Justin Bieber fans! The World Tour titled "Justice" is Justin's first world tour since the Purpose World Tour in 2016-2017. The whole tour spans more than 100 dates across 5 continents throughout this year and next year.
Justin Bieber's concert will take place in Singapore on 25 October.
Here is the seat map and the prices for each category: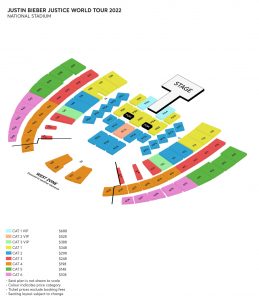 Justin Bieber has come a long way in his journey. 'Justice' has amassed nearly 9 billion streams worldwide, arriving on the back of huge international hits 'Anyone', 'Lonely' and 'Holy', which had already gathered 2 billion streams prior to the album's release.
Get your tickets here before it's sold out!
Images from Ticket Master